Wowser! – It's mobile UX in yer browser!
Yes, Mr. Tappy has his own viewer, so you can watch the interaction on mobile devices with his camera and even a second one without using any fiddly software or multi-app jiggery-pokery.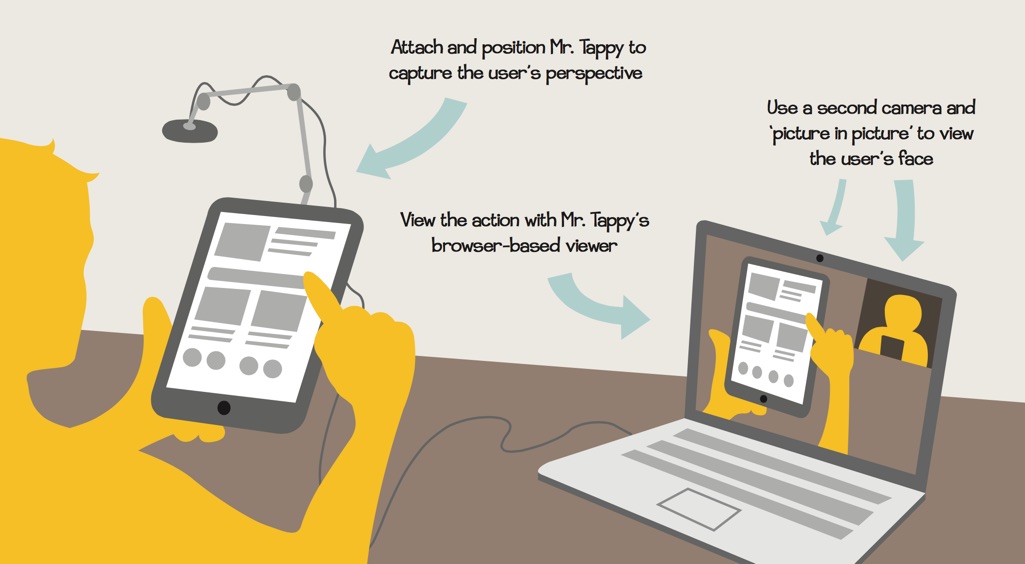 It's a really simple app which works right in your browser, and is free to use with Mr. Tappy or any other webcam setup you have.
Watch your users bite their lip or grin with joy as they use your app by plugging in a second camera – the viewer can show it as an overlay.
There's no download required, all you need is the Chrome Browser and plug in your Mr. Tappy webcam as shown in the illustration above…
Really simple
There's really not much to it…
With your permission, the Chrome browser can access your webcam and show what it sees, right here in the browser.
Mr Tappy simply lets you show the camera-view on screen in a way suited for UX research on mobile devices. Including 'picture in picture' where you can have a second camera pointing at the person using the device.
Whatever happens on the camera is a moment in time, and it's not stored or captured in any way unless you choose to do so with your own software.
Plenty of UX pros use a screen recorder called Camtasia (PC or Mac) or Screenflow (Mac) for doing this.
If you're not sure about privacy aspects, read my promise to you.
It's a fairly basic use of technology, but it's a big improvement over the hassle of having a raft of software running at once, or expensive software you only use a fraction of.
We need to use your camera in the browser.
What goes on tour, stays on tour
Whatever happens on the camera is a moment in time. It's not stored or captured in any way unless you choose to do so with a screen recorder like Camtasia (Mac or PC) or Screenflow (Mac only) for doing this..
So, nobody sees what's on your screen except people looking at it with their own eyes. (unless you choose to record it).
Mr. Tappy is a one man business and my business is to help you do your best work, easier. What you do with your camera is your business and that's that.
You can be sure there's no way I'll ever be privy to anything that happens relating to using the viewer, or the Mr. Tappy camera, or any camera for that matter.
… unless someone gets so000 excited that they take a photo or screenshot and tweet it… but I can't be responsible for the levels of excitement in your design team.

So, you haven't met him yet?
Mr. Tappy is a purpose built camera rig made for capturing how people interact with mobile devices. UX design, marketing, digital product designers, user researchers and usability people around the world use him to get the dirt on how they can make their product better, or sometimes even great.
There are many ways to view what the camera sees, but they can be a hassle, so this viewer is an attempt to make life easier for the users of Mr. Tappy. So they can get better use of him and do their job well… or even great!
Looks like you're viewing on a mobile device.
Nice, and read on, but just to let you know this viewer is a desktop only product.
It works on the latest version of Google Chrome on Mac and Windows.
Download Chrome for free.