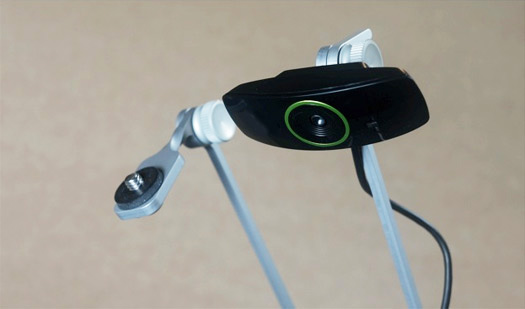 By popular demand, Mr. Tappy now has two heads.

Mr Tappy is a kit for filming mobile phones, tablet computers and handheld devices from the user's point of view.

Originally designed as a filming rig for iPad usability testing, Mr Tappy lets you capture or share user interaction with mobile devices during user experience research, product demonstrations or classroom presentations.
Mr Tappy works with mobile devices like iphone, ipad, ipod, smart phones, ebook readers, touch screen and buttons.
Mr. Tappy is a snip to set up and use - Simply attach your mobile device, set the camera height and angle, then sit back to watch the interaction unfold.
Mr Tappy provides a fully adjustable and lightweight camera rig allowing natural mobile device interaction to be captured from the user's perspective.
Unlike screen recorders, Mr. Tappy captures what happens on screen and the user's fingertips as they interact with the device, naturally.
He ships standard with an HD 720p webcam and a universal camera mount for the likes of 'gopro' and other types of cameras.
He plays nicely with devices with touch screens, buttons, keypads, gestures, multi-touch and stylus use and is a particular favourite of iPad and smartphone app developers.
Uses for Mr Tappy:
____________________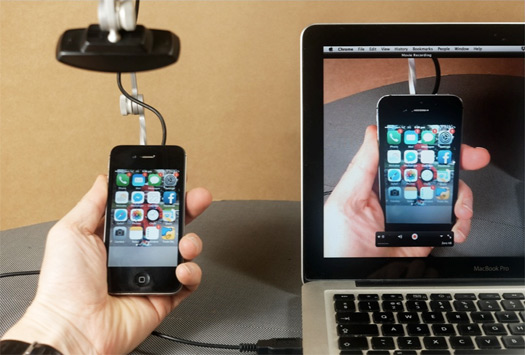 Usability testing
Record or share usability test sessions while capturing your users interacting naturally with a mobile device, apps or software.
Film interaction for later analysis or share in real time by relaying a feed into an observation room where stakeholders can see things exactly as the user sees them.

UX and human factors research
Capture on screen UX directly from the user perspective with Mr Tappy's webcam. Swap the webcam for a Micro DV cam to capture use during contextual or field research studies - In the street or on the couch, Mr Tappy will be in on the action.

Education
Put your students in the picture. Set up Mr Tappy on your tablet or iPad and display your activity on a larger screen to share with your classroom.
Yes. I offer a volume discount from 2 units up (Just ask)

Demonstration / showing off your 'appiness.
Record tutorial videos - let your customers or students see exactly what you do, how and where you tap as well as the on-screen action.


About Mr Tappy:
____________________

Mr Tappy came from humble beginnings - in fact, he originally was made from plastic cut with a hacksaw and bent over a household toaster. This solution worked fine as a usability filming rig a few years back when 'a phone was a phone' …but when touch screens and tablet devices arrived, a more flexible and stable solution was required.
With cursors and clicks screen capture was all you needed, but with taps and no cursor, Mr Tappy has become the tool for the job and is used in hundreds of digital design and research departments from 'one man shops' to the very top of the tech pyramid.

Through a series of prototypes and testing with some of Europe's largest technology design and research agencies, Mr Tappy was born.

Mr Tappy was designed by Nick Bowmast, a UX researcher helping companies develop better products and services through customer insights. Often these products involve mobile devices and the insights come from watching them use products.
Mr Tappy is a product developed by Bowmast. User Experience and Design Research

Please read our Terms and Conditions
Tablet computers: Apple iPad, Motorola Xoom, Samsung Galaxy Tab

Mobile phones: iPhone, Blackberry, Nokia, Android etc.

Ebook readers: Amazon Kindle, Nook

Devices with buttons, touch screens, number pads, QWERTY keyboards and slide-out keyboards

Hand-held medical devices

Courier despatch handsets

Personal navigation and GPS units



+ Universities, usability folk, app-builders and more!