Mr Tappy is a kit for filming mobile phones, tablet computers and hand-held devices from the user's point of view.
Originally designed as a filming rig for iPad usability testing, Mr Tappy lets you capture or share user interaction with mobile devices during UX (User Experience) research, mobile usability testing, product demonstrations or classroom presentations.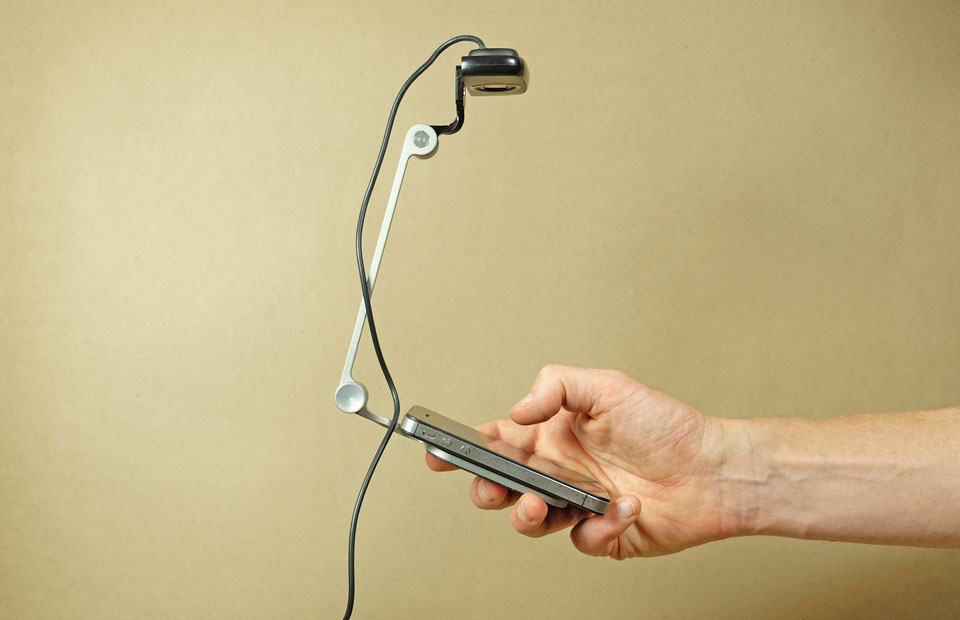 Piece of cake
Mr. Tappy is a snip to set up and use – Simply attach your mobile device, set the camera height and angle, then sit back to watch the interaction unfold.
Designed for the job
Mr Tappy provides a fully adjustable and lightweight camera rig for capturing or sharing natural mobile device interaction from the user's perspective.
Capture what counts
Unlike screen recorders, Mr. Tappy captures what happens on screen AND the user's fingertips as they interact with the device, naturally.
Friendly camera and camera friendly
He ships with a high quality HD webcam and a universal camera mount for attaching the likes of 'gopro' and other types of cameras.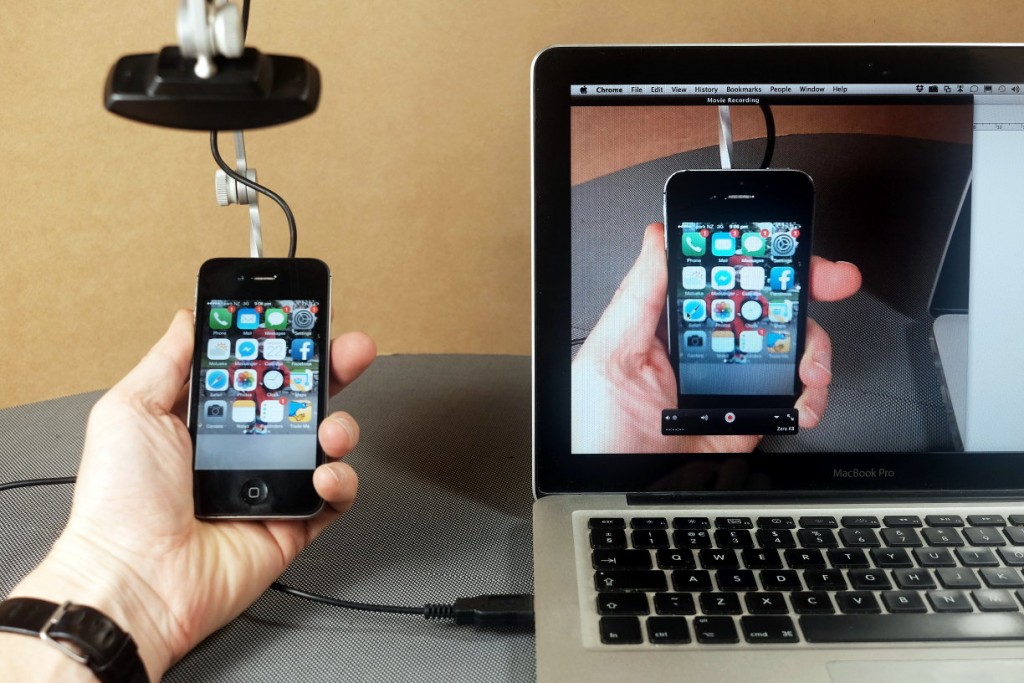 'Get Tappy' for:
Usability testing
Record or share usability test sessions while capturing your users interacting naturally with a mobile device, apps or software.
Film interaction for later analysis or share in real-time by relaying a feed into an observation room where stakeholders can see things exactly as the user sees them.
Mobile UX research
Capture on screen UX directly from the user perspective with Mr Tappy's webcam. Swap the webcam for a Micro DV cam to capture use during contextual or field research studies – In the street or on the couch, Mr Tappy will be in on the action.
Education
Put your students in the picture. Set up Mr Tappy on your tablet or iPad and display your activity on a larger screen to share with your classroom.
Yes. I offer a volume discount from 2 units up (Just ask)
Demo your 'appiness.
Record 'how to' tutorial videos – let your customers or students see exactly what you do, how and where you tap as well as the on-screen action. So much more compelling than a screen recording.
---
Choose your weapon…
Mr Tappy is designed for and plays nicely with use with mobile devices; tablets, smartphones, iPhone, iPad etc.
So long as the device has a flat surface on the back to stick to, he'll be right at home with:
Tablet computers: Apple iPad, iPad Pro, Samsung Galaxy Tab, Microsoft Surface Pro
Mobile phones: iPhone, Android, Samsung, Nokia, Huawei, Sony, LG. etc.
Ebook readers: Amazon Kindle, Nook, Sony reader etc.
Wrist-wearables: Apple Watch, Garmin, etc.
(Just mount Mr. Tappy on a desktop and hover his camera over your user's wrist. It's a snap)
Devices with buttons, touch screens, number pads, QWERTY keyboards and slide-out keyboards.. if people interact with it, and you'd like to record or share this… Mr. Tappy is on the case.
He's been used with medical devices, courier despatch handsets, personal navigation and GPS units, …even a fish finder.
---
Who's tapping with me?
Product managers and UX designers, at Some of the worlds sharpest, most ticketty-boo tech companies, …that's who. (I'm flattered. Really).

There's also a bunch of startups, universities, app developers, banks, newspapers, (remember them?) TV channels, The list goes on…
Now get up close and personal with Mr. Tappy, and see what he's really made of.
Or follow Mr. Tappy's journey from way back when he was just a twinkle in a UX researcher's eye.